Club House & Pools
You and your family and friends will have free access to 3 clubhouses, all with outdoor pools and 2 with tennis courts.
North Clubhouse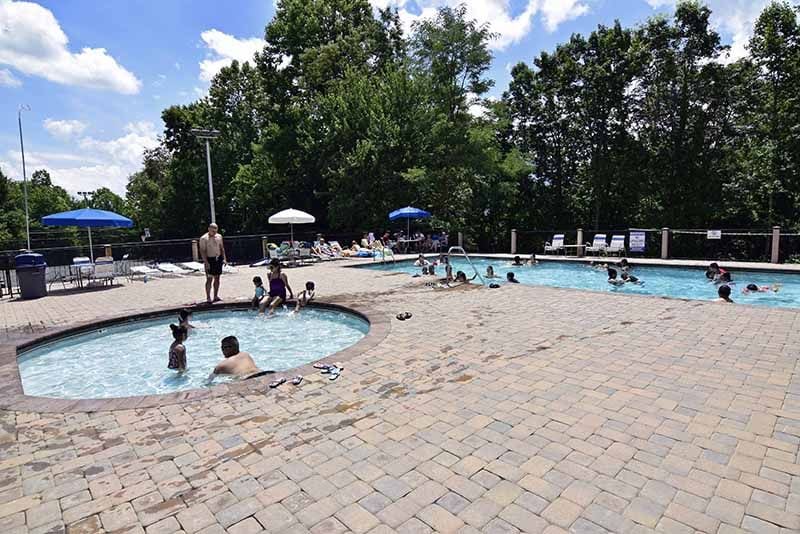 Amenities: wood-burning fireplace, Village Loop Rd. Our North Clubhouse is located at the corner of Village Loop & Wiley Oakley Drive. With 3 outdoor pools, 2 childrens' pools, and lighted tennis courts, the North Clubhouse is all you need to fulfill the desire to relax in the sun or enjoy the mountains with family and friends. Outdoor ping pong, foosball, yard games and a paved walking trail are a few additional amenities available here at the North Clubhouse. You're welcome to bring food and drinks of your own to the clubhouse (excluding glass containers) but we do have drinks and concessions available for purchase.
The North clubhouse has a private banquet room available for rent (for an additional charge) with a full kitchen & restrooms. Our rentable facility is located at 705 Village Loop and seats up to 65 People; amenities also include a woodburning Fireplace, microwave, commercial coffee pots, and an ice machine. This room can either be used as a large dining/meeting room or two separate rooms with the folding room divider.
Pool hours are from 9a-9p Thursday – Tuesday as we are closed Wednesdays for maintenance. Tennis equipment is available but you are welcome to bring your own if you prefer. Lights for evening games remain on until midnight. For additional information on our North Clubhouse, please call our courteous customer service staff at 1-800-262-7684 or fill out our quick and easy contact form.
South Baden Clubhouse
Chalet Village's South Baden Clubhouse is located at 1319 South Baden Drive just a short drive away from the Ober Gatlinburg Amusement Park. An all-day wristband will allow you access to 2 outdoor pools, 2 outdoor tennis courts, horseshoes, shuffleboard, and a 12 and under kid's playland. The clubhouse game room is equipped with pool tables, a foosball table, checkers, chess, ping pong, and a small "home-style" workout room so you don't skip a beat in your routines. Drink Machines and concessions are also available during operating hours.
Need internet access? Not a problem, the South Baden Clubhouse offers free wireless access to overnight guests, just bring your laptop and current pass.
An indoor facility is available to rent for gatherings up to 150 guests, equipped with a fully functioning kitchen, storage freezer and an oversized refrigerator to fit catering trays. There is also a separate bar area, as well as a dining room with a fireplace. This clubhouse is wheelchair accessible.
There are changing rooms and showers available; however, the clubhouse does not provide towels.
Notes: For further questions on our South Baden Clubhouse, please call us at 1-800-262-7684 or use our quick contact form. Please note that the South Baden Clubhouse is closed on Tuesdays for maintenance.
Upper Alpine Clubhouse
The smallest of the three clubhouses available is the very private Upper Alpine Clubhouse located at 1151 Upper Alpine Rd. This clubhouse is equipped with an adult pool ranging from 3-8ft and a children's wading pool featuring a cascading raindrop umbrella.
Also available at the Upper Alpine Clubhouse is a game room with foosball, a pool table, game table for chess and checkers plus much more.
The Upper Alpine Clubhouse does have drink machines and concessions available during operating hours.
The clubhouse has changing rooms and showers available but does not provide towels. Sit back and relax with a breathtaking view of the nearby ski slopes and mountain scenery.
Notes: Looking for more information on the Upper Alpine Clubhouse? If so, fill out our quick and easy contact form or give us a call at 1-800-262-7684 and our professional and courteous customer service team will be happy to assist you!
This facility is closed on Thursdays for maintenance.
The Great Outdoors
Start with the Great Smoky Mountains National Park for a great East Tennessee weekend getaway adventure. There are trails for hiking, biking, and horseback riding, from easy, level trails to challenging mountain paths. There are waterfalls, vistas, and wildlife to enjoy near Dollywood TN cabin rentals.
If you prefer water to land, we've got an abundance of clear mountain streams and rivers for trout fishing, tubing, kayaking and canoeing. Plan your Tennessee Dollywood vacation today.
And don't forget the golf clubs. The area has numerous golf courses that can challenge even the most experienced player.
Geocaching is another great way to see the outdoor sites. Visit their site for a list of caches in the area.
Don't forget these great Gatlinburg Attractions and Local Restaurants as well as Services.
Mountain Heritage
Want to learn something about the area's rich heritage? Start off your visit with a trip to the Great Smoky Mountains Heritage Center, where folks celebrate the mountain way of life.
The area is also home to the largest group of independent artisans in North America. Travel the 8-mile loop of shops, studios and galleries showcasing the Great Smoky Mountains Arts & Crafts Community.