It's never too cold to enjoy winter in Gatlinburg. Summer gets a lot of hype — and deservedly so — but winter brings plenty of opportunities for just as much enjoyment. While there's indoor fun and shopping too, we're going to recommend you get outside with the following 5 activities that make for a great time in the brisk mountain air!
1. Hike the Gatlinburg Trail
You can drive directly into Gatlinburg and take a hike on a park trail! ​The Gatlinburg Trail​ is relatively flat, and it takes you right to the Sugarlands Visitor Center. Also, it's one of only two pet-friendly trails in the park. What's best is that you can still hike this trail even if the roads in the park close for the weather. This is a scenic walk we recommend, especially since it runs along and crosses the Little Pigeon River too!
2. Fun in the Snow at Ober Gatlinburg
Ober Gatlinburg​ has been Tennessee's premier ski resort for decades, and it's still providing guests with fun during winter in Gatlinburg. This is an ideal place for your first skiing lesson, and the beginner trails will put you at ease. If you want to have some family fun in the white snow, tubing is a thrilling and popular outdoor option here as well. A whole day of excitement is just waiting for you here!
3. Have a Snowball Fight in the Park
If you're lucky enough to visit during and after a snowfall, how about a snowball fight just for the fun of it! There are plenty of places throughout Gatlinburg where you can stop and wander, looking for that perfect area to laugh and bring out the kid in you hurling snowballs with friends and family!
4. Live Concerts in The Holler
They don't shut down the concert area just because it gets a little cold during winter in Gatlinburg. Nope, the live music is ongoing in ​The Ole Smoky Holler between the distillery and the impressive merchandise displays for sale. There are special guests who visit Ole Smoky throughout the year, but there are a few local bands that perform regularly, ensuring that the music never stops at this great venue!
5. Take a Walking Tour to View the Lights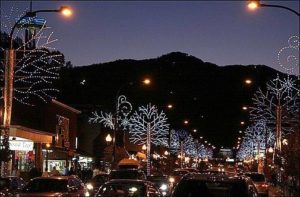 The Gatlinburg Parkway is lined with amazing light displays that you'll want to get closer to see. No need for tickets or a guide, this is totally self-guided and done whenever you feel necessary. We recommend going early in the morning, so bundle up and head out for minimal crowds, if any, distractions that will enable you to get a wonderful perspective on what a Gatlinburg winter really does for its many visitors!
Are you ready to experience winter in Gatlinburg with all the things we mentioned and more? We hope that's a resounding yes! We also want to you to have the best accommodations for your stay. ​Book a cabin​ from us and break the ice on your winter vacation plans!