While it may be hard to believe, it is almost that time of year again when Gatlinburg lights up more than 3 million lights throughout the city for Winter Magic! The event kicks off with live music, a chili cookoff, chili eating contests and more! Join the fun with city dignitaries, locals and other guests during the ceremonial lighting of the Winter Magic lights. Here is everything you need to know about attending the Gatlinburg Winter Magic Kickoff and Chili Cookoff:
Date, Time and Location
The Gatlinburg Winter Magic Kickoff and Chili Cookoff takes place on Wednesday, November 7, 2018, from 5pm to 8pm. The festivities are in downtown Gatlinburg at 705 Parkway, and plenty of street and garage parking is available throughout town.
Admission Information
While the event is free, tickets for chili sampling can be purchased for $10. There will also be a special edition t-shirt available for purchase at the event.
What to Expect
The Gatlinburg Winter Magic Kickoff and Chili Cookoff features mouth-watering recipes of homemade chili as the town celebrates the start of Gatlinburg Winter Magic. The event will feature live music from Departure, a renowned Journey tribute band who has performed in 100 shows annually across the country. There will also be supporting performances from the rock and bluegrass trio Grassabillies and the Greenbrier Band. Participants in the Chili Cookoff will be competing for the People's Choice Award as they offer their delicious recipes to the public. The excitement really heats up with the popular hot chili eating contest where contestants must eat chili with increasing levels of heat as the competition progresses!
About Gatlinburg Winter Magic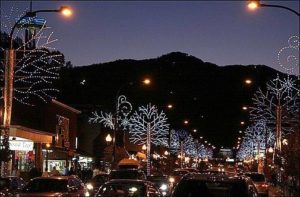 Gatlinburg Winter Magic is an annual celebration of the holiday season with 3 million twinkling lights throughout the city. The event started in 1989 with a small number of Christmas lights and has grown throughout the years into a major showcase of light displays! Now you can view over $1 million worth of environmentally friendly LED light displays throughout the town of Gatlinburg. There is plenty of time to enjoy the lights as Gatlinburg Winter Magic runs throughout the winter until the end of February.
Where to Stay
If you want to stay in the best cabins near the Gatlinburg Winter Magic Kickoff and Chili Cookoff, check out Chalet Village! We offer a fantastic selection of cabin rentals for every budget, ranging from one bedroom cabins for a romantic getaway to 8 bedroom cabins for a group vacation. Our cabins are situated among the beauty of the Smoky Mountains but are just minutes from downtown Gatlinburg and all area attractions. While staying with us, enjoy amenities such as full kitchens, fireplaces, hot tubs and more! If you are traveling with your beloved furry companion, we even have a number of pet-friendly cabins that you will love!
Check out all of our cabins in Gatlinburg TN today to stay close to the Gatlinburg Winter Magic Kickoff and Chili Cookoff! We hope to see you soon at Chalet Village!